Volleyball team hopes to be invigorated with season in full swing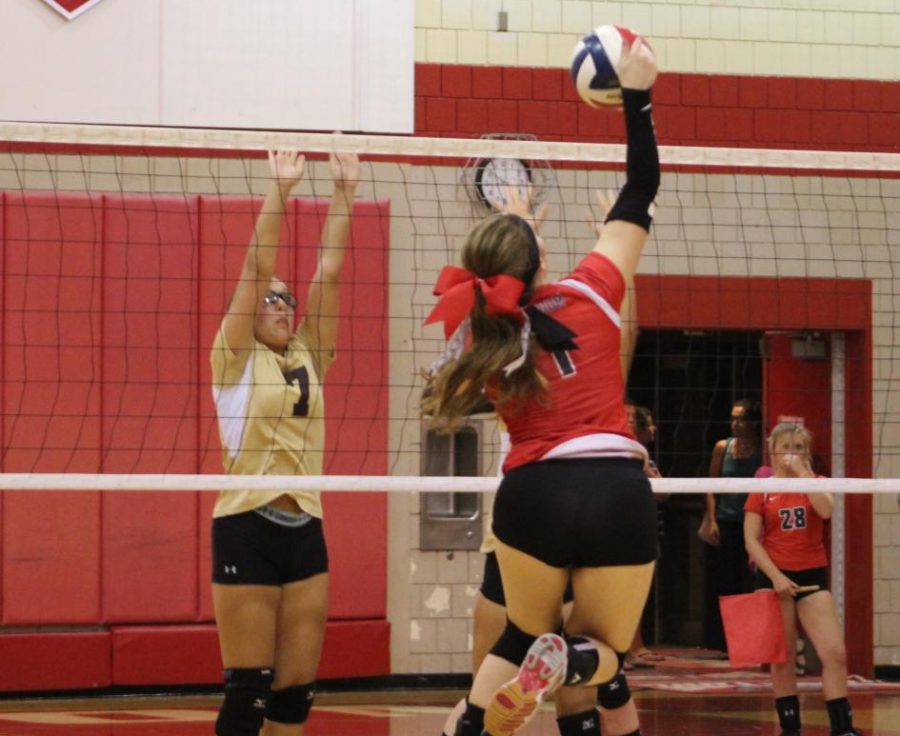 The beginning of a sports season can be a terrifying time. No one knows how the team is going to do or who's going to become the next star player of the team. A lot of effort, time and stress goes into practice.The girls volleyball team were no exception to this athletic struggle.
"No one knows how much work we actually put into this team whether it is summer practice at the sand courts or practice in the hot gym," sophomore Alexis Surenda stated.
Last year, the team had a record of 1-17. Even though last season may have been rough for the ladies, this year looks especially since this year brings in a whole new grade of players learning how to play the game. But the players don't seem to be worried about the new approaching season coming way. In fact, the girls seem to be very confident about the first approaching game.
"I want everyone to know that we are going to kick butt this season and I hope they come to watch," senior Sara Schoedel stated.
Last season, the team lost several players including junior Ella Walden. They also gained a large multitude of freshman this year, which could make for an unpredictable season. With a total of 16 new young players, it seems that the volleyball team may have a struggling season, but the team doesn't seem worried about this.
"Well, I feel there is great potential for our team to become close and work great together,"  Surenda continued, "With all the new players we have lots of people to put into the games and see who works best with each other."
With new players also comes the opportunity to see what each person has to offer to the team and who will become new key players on the team. We also get to see who has improved since the last season.
"People to look for are Alexis Surenda and Baylee Stewart they have greatly improved this year and I can't wait for everyone to witness them in action," Schoedel added.
By looking at the scores of the volleyball team last year, people would probably think of the volleyball team in a negative light, but players have voiced their opinions on what they think truly mattered.
"Well, I believe that the scores don't prove how we do only how we play shows that, so even though the scores didn't prove that we did well we still played very well together and got close to people we didn't think we could," Surenda added.
Check out the Freedom Athletics page for more information on when and where the ladies are playing to come to support them. Their next game is on Oct 1 in the high school gym against New Brighton at 7 p.m.
    "I feel like we could be so much better and this is our season to prove it!" Schoedel stated.