Web Exclusive-Tennessee fires: what's to blame?
Gatlinburg recuperates after devastating fires that destroyed many homes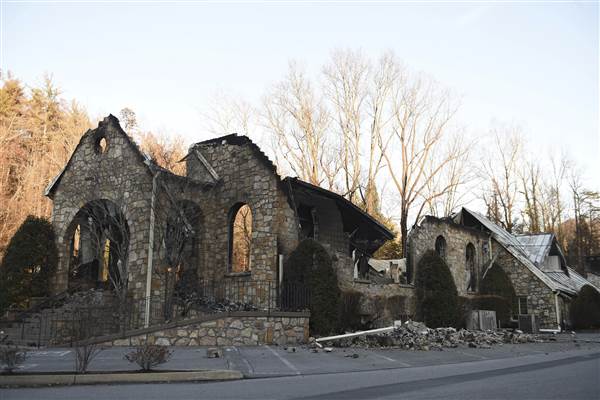 Hang on for a minute...we're trying to find some more stories you might like.
Beginning Nov. 28, devastation rained throughout Gatlinburg, Tennessee as enormous fires tore apart and destroyed more than 1,600 buildings and houses. After 14,000 citizens evacuated the city and over 17,000 acres of damage, this fire is believed to be the biggest Tennessee has seen in over 100 years; however, the question to be answered at the moment is, "what started the fire?" During a press release on Nov. 26, the original fire from Chimney Tops Trail is believed to be man-made, according to Chief Ranger Steve Kloster.
Man-made doesn't automatically mean it was intentional arson. In this case, a possible theory is that the fire originated from a smaller fire at Chimney Tops Trail, according to The Daily Times. On Nov. 26, a three-acre fire at Chimney Tops Trail closed parts of its region in Great Smoky Mountains National Park that could have, over time, spread to Gatlinburg. Nothing has been confirmed, but this could have been the start of the fire that engulfed Gatlinburg.
These past few weeks in Tennessee, fires have been common due to their extremely dry conditions and powerful winds. On Nov. 28, winds went over 87 miles per hour which was nothing but fuel for the growing wildfire. These winds also knocked power lines down, sparking even more fires.
No matter how the fire started, the catastrophe caused 14 to be confirmed dead by Dec. 5, leaving a further 134 injured.
A man by the name of Michael Reed was one of the many, along with his 15-year-old son, that were able to escape the fires; however, his wife, Constance, and two daughters, Chloe and Lily, were three of the 14 killed. Ever since the fire had started, and up until a few days ago, he had been trying to find the rest of his family.
In response to damages done by the fire, country star Dolly Parton has agreed to donate $1,000 a month to all of the families who lost their homes in the fire. It had just so happened that the fire had occurred in the great Smoky Mountains of Tennessee where Parton grew up. To lend a helping hand, Parton released a statement announcing that the Dollywood companies and the Dollywood Foundation would set up the My People fund for the victims of the fire.
"I've always believed charity begins at home," Parton told ABC News. "We want to provide a hand up to those families who have lost everything in the fires. I know it has been a trying time for my people, and this assistance will help them get back on their feet."
As for the mayor of Gatlinburg, he certainly had his fair share of losses. The fire was able to engulf his home, which he built himself, and seven buildings of the condominium business he owns.
"I call it a huge bump in the road. But our family's safe, everybody's healthy, we all love each other," Werner told WATE news in an emotional interview.
"We just came from the shelter…" Werner explained after having visited a shelter many victims were staying in, "and [we] just had the chance to tell people, you know, 'Don't worry,' Like my mama used to tell me, 'Everything's going to be OK.'"
Having the perspective of an actual firefighter is a lot different than someone regular. Local Pine Run fire chief Mike Grauly shared his personal opinions on the fire as well as being a firefighter in general.
"It'd be a long day," Grauly commented about firefighters extensive work on the fire itself, "brush fires can be hard work."
"When I first started the fire service back in '96, we probably put out 8-12 [brush fires] a day," Grauly stated, "now we're lucky to get 6 a year." He explained that brush fires are extremely less common nowadays.
The fires in Gatlinburg, have devastated the lives of many after leaving over a dozen killed and over 100 still injured, but bit by bit, routine is being restored with the help of everyone in the community.