We're not done yet
Mask mandate returns, vaccinations are crucial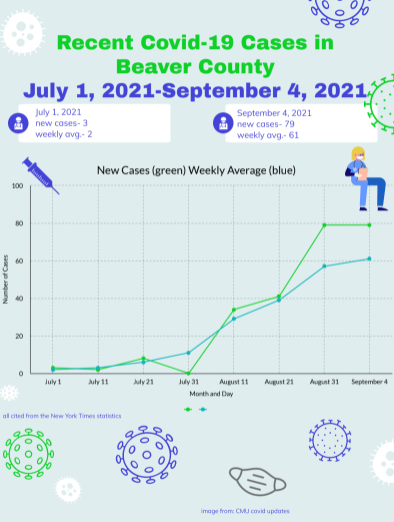 With rising COVID-19 cases in the United States, getting vaccinated is more important than ever. With the return of the mask mandate, it is vital to get fully vaccinated. On Tuesday, Sept. 7, the state made masks in schools a requirement. The most effective solution for the pandemic is to wear masks and get vaccinated. 
As stated before, the Centers for Disease Control and Prevention (CDC)mandated masks for people in Pennsylvania on Sept. 7 until further notice for people in Pennsylvania. 
"Each teacher, child/student, staff or visitor working, attending or visiting a school entity shall wear a face-covering indoors, regardless of vaccination status," the CDC said.
Now more than ever, people are refusing to get vaccinated and are rarely wearing masks in schools, stores, restaurants etc. Cases are skyrocketing again because citizens are starting to get careless with the safety precautions that are put in place, such as wearing masks incorrectly or refusing to get vaccinated. 
Getting vaccinated is very important because it could potentially save lives, halt the spread of the virus and lessen the effects of COVID-19 if one happens to contract it. Not getting one's vaccination can be a terrible idea since anyone can get the virus and it can be lethal.
Around most schools, especially in Beaver County, masks are a controversial subject. Many people oppose wearing masks and getting vaccinated. Some argue that masks restrict their breathing and are uncomfortable. To add to that, people completely reject the idea of vaccinations altogether. Numbers of people are openly "anti-vax," which is exactly what it sounds like. The term means being against the entire idea of vaccinations. Some say that the COVID-19 vaccine is more dangerous than the virus itself. Also, many people around the world do not trust the vaccine. They believe that scientists produced the vaccine too quickly for them to trust it.  
Many are also blinded by conspiracy theories. Some of these conspiracies include the vaccine causing more variants, causing infertility and the notorious microchip theory. A lot of people use social media as a way to post this propaganda about masks and vaccines. This influences other people to believe the posts, refuse to get the vaccine or not wear masks. Then, this causes a cycle of COVID-19 tragedies.
Everything that will keep us safe can be an inconvenience; however, it is the best solution. Of course, masks can be uncomfortable and annoying to wear. Still, wearing them incorrectly or not at all will not solve anything. Additionally, getting a shot is no walk in the park, as the only disadvantage of the vaccine is the temporary side effects which include: nausea, arm pain, fever, chills and more. 
"These side effects are normal signs that your body is building protection and should go away within a few days," the CDC said.
Although they quickly produced the vaccine, it is approved to be safe by the Food and Drug Administration (FDA).Many of the conspiracy theories going around are anything but true. In an article from the Healthline, Dr. Schaffner helps us understand many of the myths that were stated above by stressing that the variants come from the virus, not the vaccine. 
"For decades, risk of infertility has been used as a way to frighten people away from legitimate treatments…. This myth is false when it comes to the COVID-19 vaccines because the vaccines do not go near DNA in your cells," Schaffner said. 
Finally, regarding the outrageous microchip theory, Schaffner also debunks this myth.
"Physically, chips are not small enough that they could be inoculated with a needle. The COVID-19 vaccines are old-fashioned simple public health. Bad disease; good vaccine. Let's get the vaccine in order to prevent the bad disease. It's nothing more complicated than that," Schaffner said.  
Not wearing masks or getting vaccinated will do nothing, it will only add to the issue. If one wears their mask correctly when they're supposed to and get vaccinated, they will get closer to the normalcy everyone is longing for. There are little to no cons to getting the vaccine, so it is the best decision to get fully vaccinated in order to stop the spread. 
As of Sept. 1, the average positive test rate is nearly 7.9% and is quickly rising. To help slow down the spread of COVID-19, the people of Beaver County should get their vaccinations and wear masks where it is recommended and mandatory. "Anti-vaxxers" argue that vaccinations are dangerous and that the side effects after the shot will be bad. Yes, the side effects may be bad for some, but getting COVID-19 is even worse. Getting vaccinated and wearing masks is a step towards the right direction, the end of this pandemic and finally helping Beaver County return to a more normal state.