What's your Major Monday
Guidance department looks to educate about post-secondary schools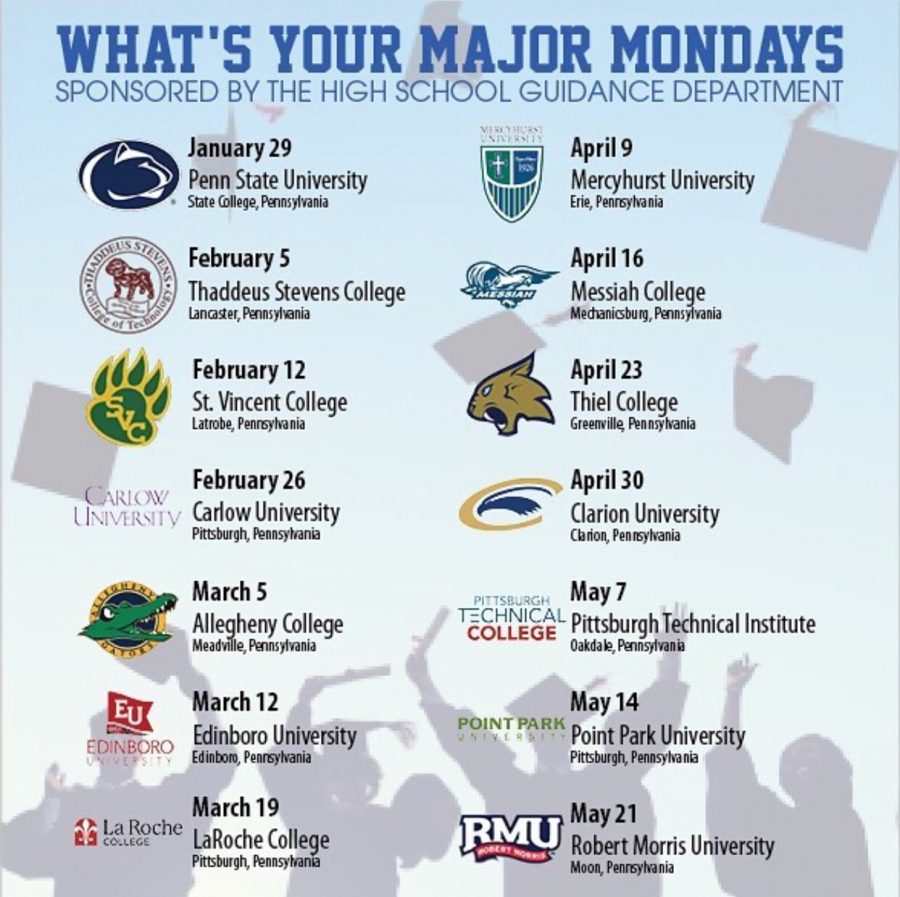 There are around 7,000 post-secondary schools, colleges, tech and trade schools in the United States, so how are students able to recognize all of them, as well as decide what school is right for them? The idea of What's your Major Monday has been a new idea, introduced by the Guidance Department, brought to the high school this year, but what exactly is it?
"Each week on 'What's Your Major Monday' the guidance team will promote a different school. We will be wear matching t-Shirts and display informational materials provided from that school in the guidance office," Guidance Secretary and Registrar Megan Tinklepaugh said.
"We will also be raffling off one of the donated t-Shirts to 1 (one) lucky student each week. Our hopes are to peek student's interests and provide them with as much information regarding post-secondary education as possible. Each week we will send out an email and a Google survey explaining which college we will be featuring the upcoming week. Students must complete the survey by PLT that Monday to be entered into the t-shirt raffle," Tinklepaugh said.
The Guidance Office sent a letter to the top 100 colleges in early November. They received responses from around 20 schools.These school, including Penn State University, La Roche College and Point Park University, donated t-shirts in hope to pique the possible interest of high school students.
In high school, students are often focused in the present, the chemistry test a student  has next week or the english homework that a student should probably do tonight. The future is often not thought about and unseen.
"There are so many different opportunities for students after high school. We wanted to shed some light on what's available and what they have to offer. Allowing students to learn a little bit more about each school we feature along the way," Tinklepaugh said.
Students first questioned why the raffle was open to all high school rather than just the seniors. Guidance, however, decided it was better to inform the entire school as the idea of college becomes more important every year.
"It is truly your entire high school career that plays a huge part in your acceptance into college. With any college a high school transcript is a necessary requirement for admission to most colleges and tech schools,"Tinklepaugh said.
"Your freshman and sophomore years make up half of that transcript and by junior or senior year, it is extremely difficult to mend any mislays from those previous years. The sooner we can educate students on this the better" Tinklepaugh said.
What's your Major Monday will run until May 21 ending with Robert Morris University.