'When you're an Addams'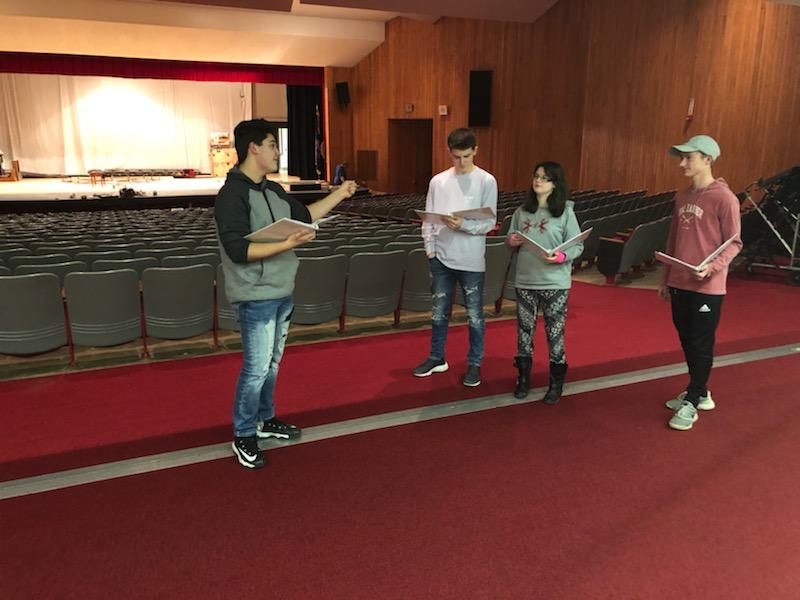 They're creepy and they're kooky, mysterious and spooky, they're altogether ooky… The Addams Family! As the holiday season fades into a dull winter, the Drama Club is hard at work preparing for this year's musical. Last year's play featured senior Claudia Huggins and alum Dante Colorito as Belle and the Beast respectively in the musical Beauty and the Beast.
This year, for the first time at Freedom, Drama Club members will be performing the musical The Addams Family. Under the direction of Deb Williamson, students will be portraying the bizarre, upside-down lifestyle of the Addams Family.
In Freedom's rendition, the father Gomez will be played by junior Mason Hedge, the mother Morticia will be played by senior Robin Kaufman, the children, Wednesday and Pugsley, are played by Huggins and seventh-grader Mason Lewis. Close family members Uncle Fester and Grandma will be played by seniors Joseph Smith and Jenna Engel, and the family's butler Lurch will be played by senior David Messenger.
The main plot of the musical involves Wednesday who is dating a normal boy named Lucas Beineke, played by freshman Jay Hessler. Lucas along with his normal parents, Cal and Alice Beineke, played by juniors Casey Collins and Alyson Horner respectively, come to visit the Addams family which shapes up to be quite the comical interaction.
"I was excited when I heard the Addams Family was the musical because it's a different type of show than we've ever done before," Kaufman said. "It has more comedy in it which I feel will be a good change that will be exciting for the audience."
This year a few new faces have taken on lead roles. Lewis, Smith and Collins are all participating in Drama Club for their first time.
"I'm most excited to have such a good cast because there are some new people and some veterans so it will be different and fun to build new friendships with them," Kaufman said.
Vocal, choreography and blocking practices began early January. At the beginning, there were about four practices per week; however, as the premiere date approaches, the amount of practices increase to five or six times per week.
"[The play] is definitely way different from last year's Beauty and the Beast so I am interested to see how it goes," Hessler said.
This year the musical will be held on March 29, 30 and 31 in the high school auditorium. For the next couple of months, the cast and crew will be practicing hard to get their creepy and kooky just right in order to pull off The Addams Family.