Wrestling team continues journey to win section title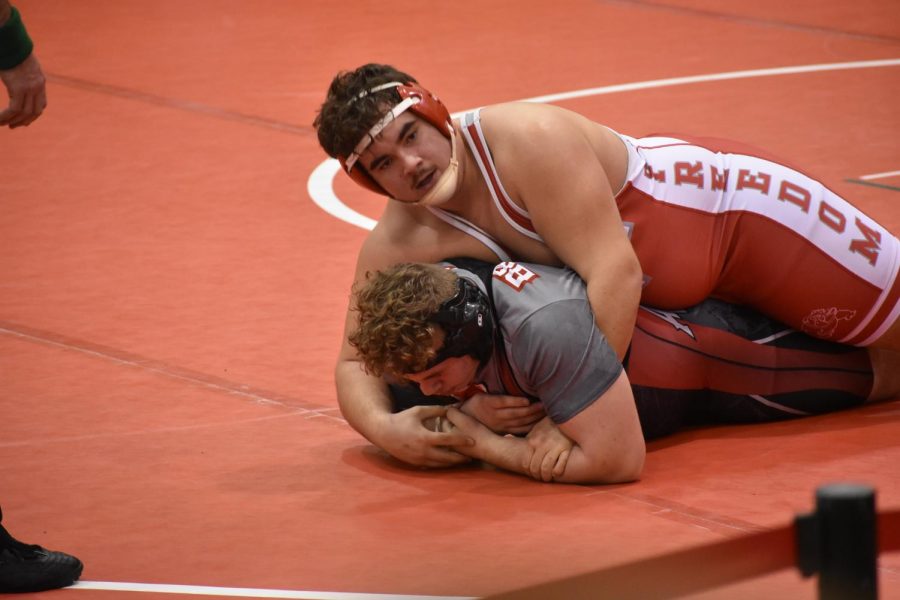 Three mats fill the gymnasium floor; parents and spectators fill the bleachers and the locker rooms hold multiple teams at a time. The smell of hard work fills the air as wrestlers begin to take on their opponents.
Returning from winter break, the wrestling team competed in the Mid-Atlantic Athletic Conference (MAC) held in the FHS gymnasium on Jan. 4-5. The tournament hosted over 10 teams around the district, all competing for the MAC championship title. This two day tournament led two seniors to their 100th win.
Senior Bryson Miller won his 100th match, shortly followed by senior Jacob Pail on Friday. Miller later went on to win another match and pin his opponent in eight seconds while Pail brought his energy to the mat with each new competitor.
"100 wins means a lot to me because everyone will see my name every time they walk into the gym along with my other accomplishments," Miller said. "It represents my hard work and dedication to this sport and I would not be here if we did not have such a great coach."
The tournament started back up Saturday morning at 9 a.m. Freedom had several wrestlers make it to the parade of champions, where they met their respective opponents for the championship match.
Sophomore and Quigley co-op, Kenny Duschek was the first to wrestle but fell short in points, earning second overall. Pail continued to bring his energy through his championship matched and earned his second MAC championship title. Sophomore Trent Schultheis followed with another win in the 152 weight class. Miller took second overall, after facing a difficult opponent and suffering from an ankle injury made earlier in the season.
One wrestler who missed the tournament action, senior Zach Ward, was recovering from his meniscus removal surgery. This process took about 15 minutes and his recovery was about three weeks, where he returned on Jan. 23 to wrestle in the WPIAL Sub-Sectional hosted at FHS.
"It has its pros and cons," Ward said. "I hate watching from a distance as it makes me feel left out and it hurts not being with the team, but I also get to focus on the stuff going on in my mind and heart so I can be 100 percent prepared for teams and individuals."
The team later took on Ellwood City on Jan. 9 at home. The team won the match but continued to struggle with Miller's and Ward's injuries.
They traveled to Beaver Area, where they would dominate with a score of 54-18, continuing their winning streak and journey to another section title. Heading to the Brookville Ultimate Duals on Jan. 19, the wrestlers took on many different teams to enhance their abilities and prepare themselves for the sections, WPIAL, regionals and eventually states.