Writing on the Quill and Scroll
Quill and Scroll charter reintroduced to high school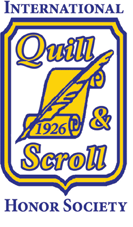 The Quill and Scroll Society is an organization that celebrates and honors student journalists around the country. For 91 years, the group has given resources to student journalists in which they can improve their works and excel. Not only is a membership available for the Quill and Scroll Society, but also scholarships, contests and a newspaper that includes articles and happenings that would interest journalists.
As of Dec. 5, there were 497,626 members in the Quill and Scroll.
Freedom Gifted Coordinator Sara Miller and High School teacher Aaron Fitzpatrick discovered the Quill and Scroll Society while searching for a way to notice and award student journalists for their work. They planned to apply for a charter for the high school, as well as co-chair it together when established. A charter is considered a chapter or group individual to a school.
When applying for a charter for Freedom High School, the teachers quickly realized that the school was already a lifetime member of the Quill and Scroll Society. In fact, the school had been a member since Nov. 15, 1941, but the school had never actively used the charter, even in the year that it was established. Through external research, all prior yearbooks—dating back to 1941—have no record of the charter.
Other schools in the area also have an established Quill and Scroll charter such as Ambridge Area High School, Beaver Area High School and Rochester High School.
Students can be nominated by a journalism teacher if they are in any journalism or broadcast classes, which currently would be Print Media Workshop and/or Broadcast Media Workshop, be in the top 25 in their graduating class and show a level of outstanding work in their journalism classes.
"Membership in Quill and Scroll is for high school juniors and seniors only, but we are planning to include the middle school Bulldog Barker staff in the ceremony in some way so that they can see the opportunities that they will have to strive for in the future. We would also like to form more of a collaborative partnership between the Bulldog Barker and FHS Press staff so this is one way to start to do that." Miller said.
Once nominated, the selected students would go through an induction in which they would earn a certificate and pin. The induction can take place any time of year, as there is no deadline to become a member. The overall cost of being a member is $25, which is paid for by the district. The students, once inducted, would be asked to stay active in the Quill and Scroll Society and would wear honor cords during graduation, if still in high standings. Club activities include, but are not limited to, observing Scholastic Journalism Week in Feb. each year, establishing a journalism library or book shelf and sponsoring student tours through local publishing plants.
The Quill and Scroll Society, like the National Honor Society, is a high standing honor that is recognized throughout the country and even the world.
Even after leaving high school, students turned alumni would continue to be a member of the Quill and Scroll Society their entire lives.
Fitzpatrick and Miller plan to induct students into the Freedom chapter of Quill and Scroll in late March of the 2018 year.