Impeachment isn't sweet
New campaign and articles of impeachment against President Donald Trump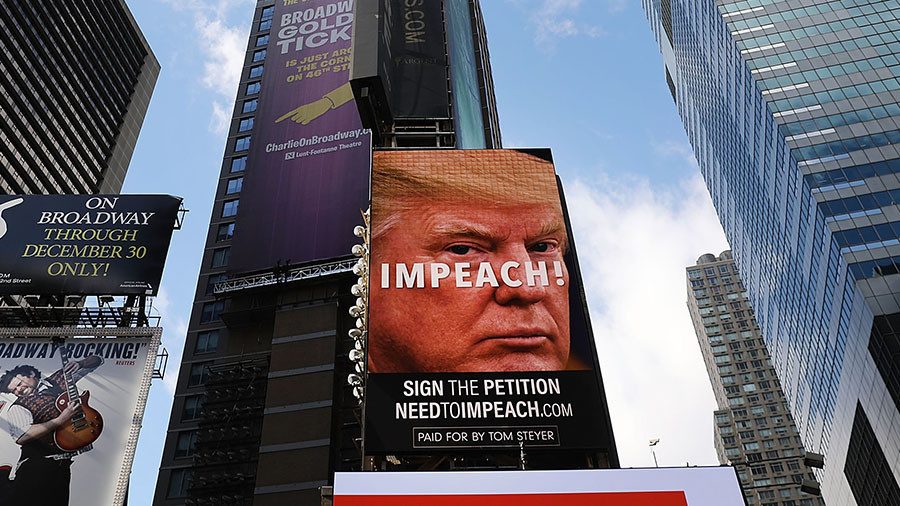 Cole Skuse, Business Manager/Copy Editor
December 14, 2017
According to Merriam-Webster, impeachment is defined as the presentation of formal charges against a public official by the lower house with the trial before the upper house. In the history of the United States, only two presidents have been impeached: Andrew Johnson, the 17th president, and William Clinton, the 42nd president. Both were successfully impeached by the House of Representatives but later acquitted by the Senate. However, a third name might soon be added to this list: Donald Trump, the 45th president of the United States.
In order for an official to be impeached, the official has to commit a misdemeanor or high crime that would make them unfit to be a public official. Over the past 200 years, only 18 public officials have been impeached from office. Impeachment is only to be used in the most extreme cases, thus being so rare. Johnson was impeached by the Tenure of Office Act, an act purposefully passed to trap him. Clinton was impeached for perjury, which is lying under oath.
After the formal charges from a lower house are filed for impeachment, a court case has to happen. Both sides argue their case, call witnesses and present evidence to prove their case. The body then votes on the case and the defendant—that is the one who is impeached—who if guilty, must be convicted by a supermajority vote. If indeed found guilty, then the official is immediately removed from office. If found not guilty, the defendant resumes their position as a public official until their term is up.
On Nov. 15, six House Democrats introduced five new articles of impeachment against Trump, all claiming that he was a danger to the country. These Democratic Representatives include Adriano Espaillat (N.Y.), Al Green (Texas), Luis Gutiérrez (Ill.), John Yarmuth (Ky.), Marcia Fudge (Ohio) and Steve Cohen (Tenn.).
The impeachment effort includes five actions that Trump has done during his time in office. One of those actions is the firing of James Comey, former FBI Director, who was investigating the involvement of Russia in the 2016 election. Another action, according to the articles, is Trump violating the foreign emoluments clause which forbids public officials from receiving any gifts from foreign countries without the consent of Congress.
Although this is a move from some in the Democratic Party, not all of the members support the articles of impeachment. House Minority Leader Nancy Pelosi (D-Calif.) is one of those against impeachment of Trump. The Republican National Committee (RNC) also agrees with Pelosi, calling the articles "a baseless radical effort."
Members of Congress aren't the only ones calling for the impeachment of Trump. Billboards appeared in Times Square calling for the impeachment of Donald Trump. These billboards were funded by Tom Steyer, a billionaire who wants to get Trump out of office.
"Given Trump's total lack of fitness for office, the question of impeachment becomes a very real issue should we succeed in our midterm goal. That makes it imperative for every Governor of every state, and every mayor of every city, to acknowledge where they stand," Steyer writes in a letter on his website, NeedToImpeach.com.
The website features the ability to sign a petition to impeach Donald Trump from the presidency. The website also currently displays a counter of how many people sign the petition, which is currently over 3 million signatures.  The only items that the petition requests is the signer's first and last name, email address and zip code.
In addition to running this campaign to impeach Trump, Steyer is running a separate operation called NetGen America. This campaign targets millennials who would be willing to vote against Trump, with a goal of 500,000 voters. He wants to target voters with views in five focus areas: climate, civil rights, health care, immigration and the economy. In this effort, Steyer has spent over $10 million in order to convince millennials to join his cause. Even though millennials are the largest group of people in America, Gen X-ers—people born from 1961 to 1981—and baby boomers—people born from 1946 to 1964—still outnumber the number of millennials partaking in elections, according to pewresearch.org.
If Trump is indeed impeached, it will most likely be due to him committing criminal actions rather than 3 million votes on a petition. Though these 3 million people are signing a petition to impeach Trump for being a danger to the county, there has been no concrete event to happen yet that would impeach him. For now, impeachment may not be the answer to what many think is a problem in the White House.