'Lunch Bunch'
NHS members, students get involved with Ms. English's Life Skills program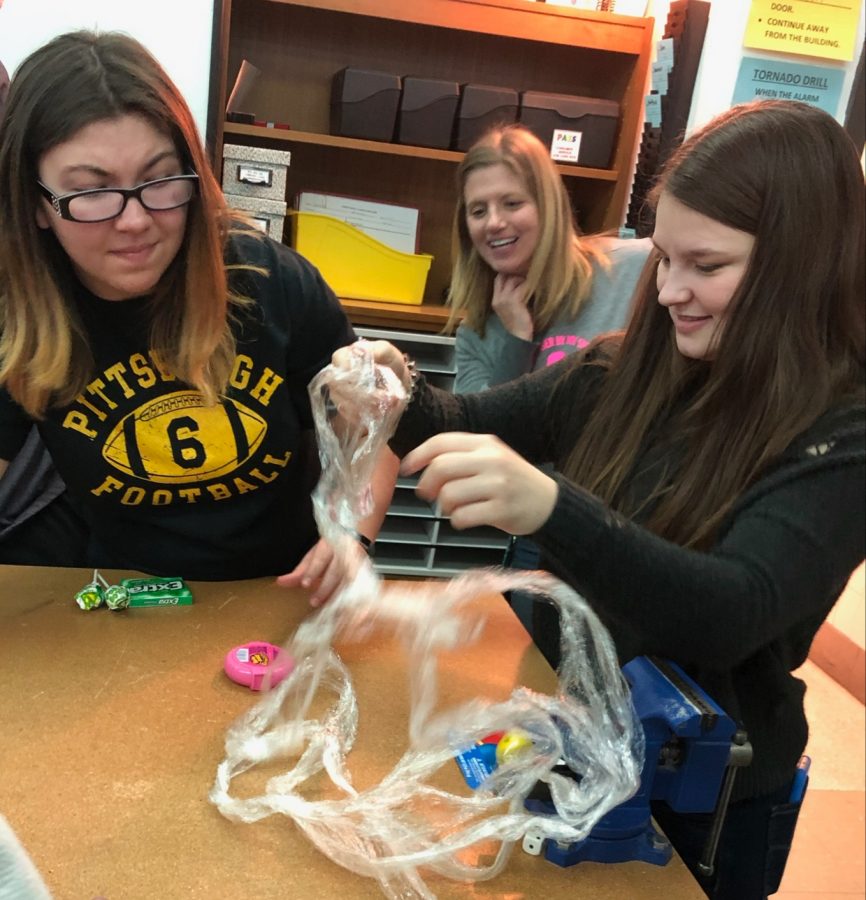 On Friday, December 13, the first "Lunch Bunch" get-together occured. What began as a thoughtful idea has turned into an actual group that enjoys spending time with each other. The group consists of seniors Adam Hessler, Shyann Komara, Casey Collins, Steven Buerkle, and Max Ujhazy from the National Honor Society, Ms. English's Life Skills students and occasionally other seniors wanting to join.
Ms. English wanted to give her students the opportunity to be exposed to some positive role models in the school. Now, every red day that falls on a Friday, the National Honor Society members who eat A-lunch get their food from the cafeteria and take it to Ms. English's room to spend time and eat with her students.
"It got started because a few of our students need some social skills introduced to them or they need to learn some positive social skills. So, I asked Ms. [Ruthanne] Gudzan if she had some NHS kids or some positive role model students," Ms. English said. 
Gudzan expressed plenty of interest in this new idea and was able to find a group of students that would be able to eat lunch with Ms. English and her students. 
 "We just decided when red days fall on a Friday, we have a Lunch Bunch. They grab their lunch from the cafeteria and come in here. We just talk and have fun and then we usually throw a game in there just to help with taking turns, being social, and appropriate behavior. It is kinda like a fun way to end the week," Ms. English said. 
Finding friends to sit with in the cafeteria is something that can be intimidating. Often times, students find a group to sit with and they stick with that group day in and day out. Lunch Bunch ensures that Ms. English's students branch out, talk to different students and make new friends. 
The Lunch Bunch is also a great experience for the seniors and NHS members who help out. They get a chance to connect and develop a friendship with students who they normally would not have a class with through the lunch and games they play. 
"We talk about everything like school, sports, CTC, food and we tell jokes to each other. We also play games like Five Second Rule, Apples to Apples and Yahtzee. I really enjoy going and hanging out with Ms. English and her students. It is always so much fun," Komara said. 
"I think it is going great! My students love it and I feel like the students from Ms. Gudzan's group seem to enjoy it as well. It has been a positive influence. My students ask me, "Do we have Lunch Bunch today?" They look forward to it. I am really appreciative of all the students there. They are such a positive influence which we need," Ms. English said.